Agium EPM is now Authorized to give the OneStream Application Build for Administrators Training in German. Principal Consultant Thomas Reisinger will be the first native German speaker to give this OneStream Training in his mother tongue.
'Being able to provide training enables Agium EPM to service OneStream users in Germany, Switzerland and Austria in the most efficient and effective way.' says Pascal Walk - Managing Partner Agium EPM.
Agium EPM and OneStream
Agium EPM and OneStream have been in a strong partnership since 2013. They worked together to provide successful CPM solutions in the Benelux, Ireland, USA, Canada, Denmark, Norway and UK. Agium EPM has entered the German-speaking market in March 2020 with Tobias Jäger and Thomas Reisinger.
Training is incremental to the implementation process
Making sure that everyone who works with OneStream understands the system is one of our top priorities in any implementation project.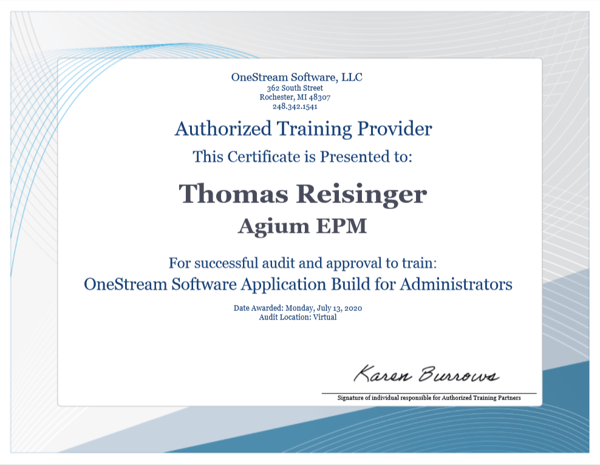 Discover the OneStream Trainings planned for July, August and September:
About OneStream
OneStream Software provides a market-leading CPM 2.0 solution, the OneStream XF SmartCPMTM platform. OneStream XF unifies and simplifies financial consolidation, planning, reporting, analytics and financial data quality for sophisticated organizations.
Deployed via the cloud or on-premise, OneStream's unified platform enables organizations to modernize Finance, replace multiple legacy applications, and reduce the total cost of ownership of financial systems. OneStream unleashes Finance teams to spend less time on data integration and system maintenance, and more time focusing on driving business performance.
The OneStream XF MarketPlace features downloadable solutions that allow customers to easily extend the value of their CPM platform to quickly meet the changing needs of finance and operations. We are driven by our mission statement that every customer must be a reference and success.
About Agium EPM
Agium EPM combines a thorough accounting and finance knowledge with years of technical experience in the field of Enterprise Performance Management (EPM) software – which truly distinguishes us from our competitors.
We are a Diamond OneStream partner and has to date successfully worked on >70 OneStream projects in 8 countries and developed several solutions on the OneStream platform that benefit our customers office of finance, such as IFRS16, integrated project reporting, capex reporting and automated equity pick up.