In the old days of disconnected EPM products, consulting would usually be polarized like this
Consolidation specialists, knowing lots about GAAP/IFRS, statutory reporting, company ownerships, but don't really get involved in FP&A
Planning specialists, with lots of experience on allocations, generating baselines, setting targets and forward-looking reporting, but don't get involved with data from ERP systems or consolidation of Actuals.
You may have been lucky to be a hybrid type of consultant who gets involved in both of the above, two very different ways of thinking and working with very different teams. Excellent experience, but you had the downside of having to regularly travel between Venus and Mars, which made it quite exhausting.
Traditional EPM brings in the Planning Consultant
The problem I remember with starting a planning implementation in the old days, despite doing your research before arriving, you aren't really going to understand the customer's business in detail on day one. With a new consolidation system, the customer has trial balance extracts, Excel consolidation packs, existing reports, that give you a head start on the application design.
In those days, when a customer started to implement a new financial planning application after having just implemented an EPM consolidation system, the chances are they would have to get a new consultant specialist up-to-speed. If the consultant is lucky then someone may have built planning models and prototypes in Excel that you can pick up. However there would still be a steep learning curve, because you had to learn about the core business inside-out, to fully understand the meaning of any planning model you're about to start building.
At this point the Planning consultant may ask some tips about the application design for Phase I, which was done by their consolidation systems specialist who you have never seen before, but you get introduced to him with the words, "I guess you know John, your colleague".
Venus and Mars appear from behind separate clouds?.…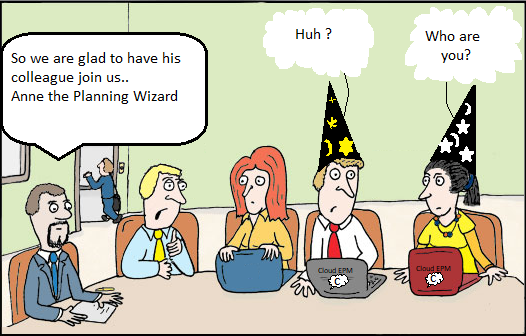 While many finance professionals cherish a clear separation of Actual consolidation and FP&A because it "gives freedom to do their own thing in their own tools", this has to be re-thought when adopting a unified CPM platform. In the new situation, the more that can be done to get consolidation and FP&A into some sort of alignment, should save a lot of work in the long term. Such alignment includes thinking about how Onestream's Extensible Dimensionality®, and how it can be used to provide a common basis for reporting structures but that each specialty area in the business can extend to their own needs.
This is where a unified CPM platform is also a big help when it comes to consulting resources or customer's own-staff resources. Once a specialist works on a unified CPM foundation you have much more opportunity to continue with the same IT, consultants and financial systems resources. For external consultants that means the opportunity to (a) start delivering Actual reporting & consolidations, which gives you time to learn more about the core business and the people behind it, so that when you get to (b) "Phase II" Planning and Budgeting, you have a head start because with the same technology foundation, you are less likely to have to bring in a separate specialist just for the Planning phases.
This is something that software vendors don't mention. There are times and places when good consultants may be hard to find, so it's good to know that once you have a team that works well, then you can have more consistent consulting and staff resources, and less need to throw a new person into the deep end as soon as you start a planning implementation just because 'Well it's one EPM suite, but the planning product is completely different'.
It is probable that organisations will always be tempted to ask for a specialist in IFRS and GAAP reporting, and a separate specialist in FP&A, simply because the specialist experience is so valuable in these core areas. However, this risks the situation of separate teams effectively building completely separate CPM applications. In that case, what's the point of a unified CPM solution? Since actively promoting such separation of design ideologies you will never be able to store and analyse all your data from one place.
Hiring a dedicated IFRS/GAAP wizard consultant and a separate FP&A wizard consultant will add lots of value and experience to your team, but there is no substitute for having project governance that covers both fields and ensures they work on common design principles where possible. There is nothing worse than arriving into a new planning project, using a unified CPM system, then finding out they already use the product for consolidation of actual data in a way that can only ever be used for consolidation of actual data.
In the next blog we get right into the design sessions of a planning implementation. Learn what is important to research when you start to add a driver-based planning model to an existing unified CPM application.
Disclaimer: These blogs are meant purely for educational use and discussion.

The purpose is to raise awareness of the strengths of the Onestream platform and how it could be made even better, as well as approaches to application design and building, and stimulate discussion.

Experiences mentioned in these blogs are those specifically of the author and may not be the experience of other CPM consultants.

The views expressed are those of the author, and does not necessarily represent the views of any CPM or EPM software vendor, nor their consulting partners.