Intelligent Columns that Vary by Scenario
In OneStream you can define a rule that generates the list of columns on the fly, depending on what scenario you have selected on your workflow.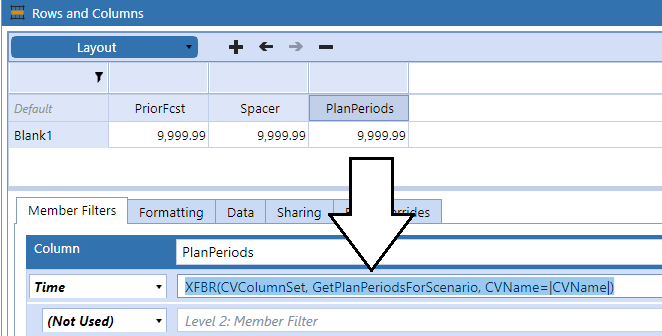 Now I design a single column template, that gets inherited by any cube view used for forecasting and budgeting.
It just simply says: "Show me a list of periods that are relevant for the current workflow scenario"
So if you are in your budget workflow:

If you are working on long-term (strategic) plan, open the same form:

If you are working on a mid-year forecast, open the same form:

All this, from a single cube view design.
The function GetPlanPeriodsFromScenario, you simply put into a business rule, so it can be made very specific to customer requirements.
Most of the information required is already in the scenario metadata, which can be queried in the business rule API.
Data Input Frequency (monthly, quartery, yearly, weekly)
Range (start period, end period)
Number of no-input periods, e.g. 5 = 5 actual periods (no input) for forecast period 6.
By querying the scenario properties at view-time, you can make a really generic column layout for all cube views that handles all data scenarios. That way, as soon as you add an additional scenario, the data forms will automatically understand what time period columns should be displayed for it.
Matrix-Controlled Row Filtering
With reporting of Actual data, OneStream has the ability to make reports appear much more compact, by only showing rows (or columns) that actually contain data.
This makes the reports much more relevant to the particular entity or time periods. Which is great for Actual reporting, where most of the data is loaded rather than entered through forms. The trouble is, for driver-based-planning, a lot of the key drivers will be input by forms. So you cannot use row suppression, because you need the rows to appear before you can enter data into them.
In OneStream v4.2 there came a useful feature so a user can toggle the row suppression on and off.
The problem with this is that when you toggle the row suppression off, it will show every combination of members that are defined in the master data, causing you to see hundreds or thousands of empty rows. Then you have to scroll down and look for the correct empty row where you want to input data.
For driver based planning you need something more sophisticated. You want to show, for example, a form that lists all the products available, but only show products that are relevant for the entity being selected, regardless as to whether there is data there or not.
This is done using Matrix Row Filtering.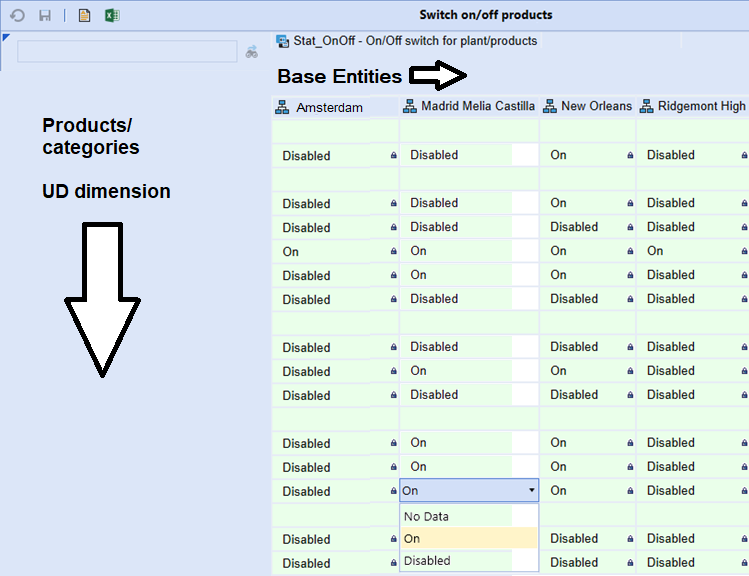 The idea is simple, use a matrix for a central or regional FP&A manager to specify what manufactured products should be switched on/off for display for each entity.
That way you can have a single form design, but different entities only see products (rows) that are relevant to them, regardless as to whether there is data shown or not.