Machine Learning, Predictive Analytics, BI, and more.
Splash Madrid showed us again how fast the development of the OneStream platform is going forward. It is inspiring to see this event growing in scale and how the focus is on expanding the European OneStream Community.
BI Analysis and Visualization
From its vision to have one unified platform it is OneStreams first priority to develop a BI functionality that is as quick and easy to use as any other tool. Then, all customers can profit from OneStreams capability to mix multidimensional and relational approach and thus confront any use case.
In the keynote speech Tom Shea showed very advanced dashboard building functions that will be released in 5.2. The demo showed that one can adjust easily the lay out with drag and drop.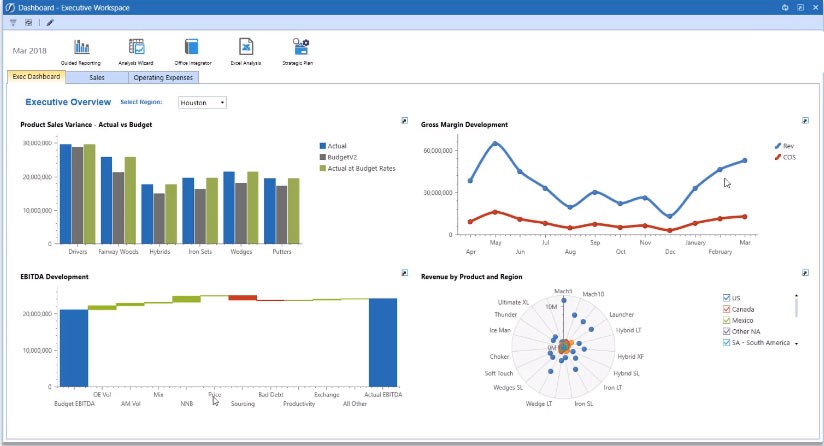 Extend your OneStream investment
Many of the customer case presentations went beyond implementing consolidation within OneStream. The ease and low cost of ownership when implementing extra solutions for functionalities as people planning, account reconciliation, lease accounting and risk management turn out very valuable for OneStream users. With the OneStream XF Marketplace expanding and the solutions being further developed this is the moment to start incorporating more finance functions in OneStream.
Machine Learning and Predictive Analytics
Machine learning, many companies are keen to use this technology to start automating the whole forecast process. Often predictive analytics is mistakenly adopted as machine learning, both provide a predictive function. However, with machine learning you base your prediction on as many variables as you think influence your results. Think about including variables such as the weather. For these variables you need as much historical data as possible. For predictive analytics you only use the historical data of the variable you are going to predict and you can use many different models. OneStream will release their Predictive Analytics 1 2 3 solution within the next release.
X-Scale release
In the opening keynote Tom Shea announced that X Scale will be live in the new release. X Scale technology speeds up the performance of search queries because of data compression. This enables new applications to be run faster and could be enhanced with more (trandactional) data. X Scale enables the BI functionality and blending with non-financial data.
All in all very interesting conference days! And now the fun stuff. We are very proud that we were able to be platinum sponsor of the event and sponsor of the Opening Reception. Also we presented 3 of our customer cases: Guardian Industries, Van Oord and MEC. Here are some snapshots: