During 15th - 17th May 2018, OneStream organized the annual User Conference and Partner summit in The Drake Hotel in Chicago. We are very proud not only to have sponsored the event, but also host an 'Ask me anything' booth, and we were the only European partner to present not one, but two sessions which included the Guardian Planning Case and our IFRS16 solution case study.
If you missed the presentations or if you were unable to attend Splash, read on to discover what was shared during the presentations.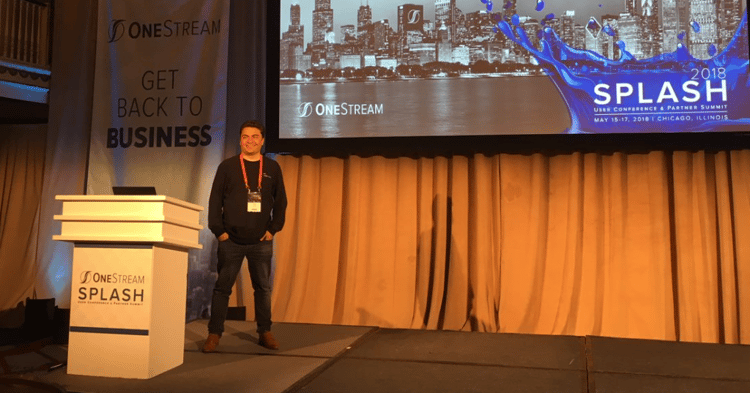 "How Guardian combines financial and operational drivers for a truly integrated plan"
– a customer case on our driver based planning project at Guardian Industries.
Guardian Industries is one of the first OneStream customers who implemented a true sophisticated driver based planning model in the same application that does the statutory & monthly consolidation; all the forecasts and actual data in one place.
Our colleague Chris Loran (Principal Consultant) took the stage with Guardian representatives Alex Beired (FP&A Director), Rachel Murphy (Global FP&A manager) to elaborate on the planning project.
The main objectives the planning project:

Enable the organization to generate comprehensive forecasts using a diverse set of drivers, from sales demand to production costs with large volumes of data.
The ability to explain variances that link back into the underlying drivers.
The ability to calculate inventory flows and a cost model that traces completed products back to raw materials, energy and labor costs.
Presentation slides can be found here --> Guardian Presentation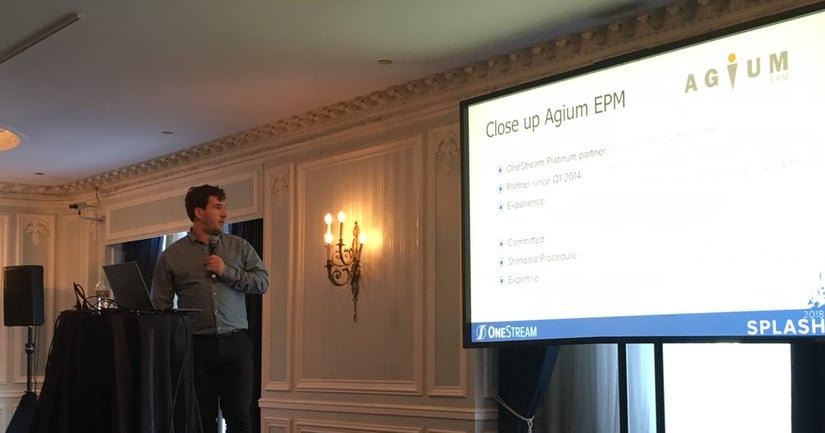 "Specialty compliance solutions – Lease accounting & more"
– our IFRS16 and ASC842 leasing solution using the OneStream platform.
Given the IFRS16 start date of January 1st 2019, we expected that most companies are in the final stage of becoming compliant and have a solution in place to report on this new standard. Based on the huge attendance however, we may be wrong.
Christian Wetterwald (Solutions Consultant) of OneStream and our EPM consultant Peter van Ooik presented how we are implementing the Agium EPM IFRS16 solution at a large Danish shipping company.
One of the key aspects of OneStream its flexibility to extend itself with new Solutions. Existing customers can now easily download and configure the IFRS16 solutions (app) to become IFRS16 / ASC842 compliant leveraging all benefits of the OneStream Platform, including data load, journals, month-to-month changes, forecasting and reporting.
The Solution features:
Journals that include company specific UD's and flow members
Central or decentral ownership of the lease register
Make use of existing metadata, security and set up
Adding documents to your lease register
All on one platform
Presentation slides can be found here --> IFRS16 Agium
Summary Splash – 3 interesting topics & facts
Besides our presentations, a lot of interesting topics and facts were presented at the conference.
The following 3 caught our attention:
Splash attendance was close to 800 (!) and near-doubling of customers, year-on-year.

Bob Powers on Xscale, an impressive cloud infrastructure that can switch-on new server machines on the fly to respond to spikes in system demand, as a radical alternative to traditional infrastructures that have more constant resources.

Data123 – this brings a new way of creating data forms while easily managing drop-down list boxes and attaching custom calculations to forms, all through the graphical interface.
This year had a particularly strong focus on budgeting and planning. Many customers in the past had been using the Onestream platform for consolidation, and now are seeing the benefits of a unified CPM platform for expanding with new specialty apps, better planning and data blending, all without the cost of additional licenses.
Splash at Chicago was a great success and now we are looking forward to Splash 2.0 in September 27th in Amsterdam where we will present together with our customer Damen Shipyard – where we have implemented OneStream for consolidation- and planning simultaneously.
Splash 2.0 Amsterdam
Splash is the best place to discover everything about OneStream XF and how companies are leveraging the power of the platform. If you could not make it to the US be sure to write Splash 2.0 Amsterdam down in your agenda.
Already a OneStream customer and still need to become IFRS16/ASC842 compliant? Time is ticking so contact us to get things done or request a demo!