Carbery Group is a cooperation that is owned by four Irish dairy co-operatives in West Cork. They are recognized as a leading international manufacturer of specialty food ingredients, flavoring systems and as an award-winning cheese producer. Milk is a central theme which complicated qualitative cost allocation. It is used throughout the group and is transferred back and forth between the departments. Being a highly perishable product with many fluctuations in supply and demand, also price and value change constantly.
Allocation of milk with a real price and stock valuation forms a central challenge for the Carbery Food finance team. This example shows how a flexible system can help tackle such complicated challenges and finally enables them to get a clear view on the use of milk and its profitability throughout the group. Together with Agium EPM they implemented a Flexible Allocation Solution in their existing OneStream XF application.
The Milk Model
The goal of the milk model is to allocate milk and milk cost to Carbery's different products. The milk model is a stock movement schedule in OneStream XF. The schedule starts with the opening balance, which is automatically derived from the closing balance in the prior month. Followed by various movements, for example: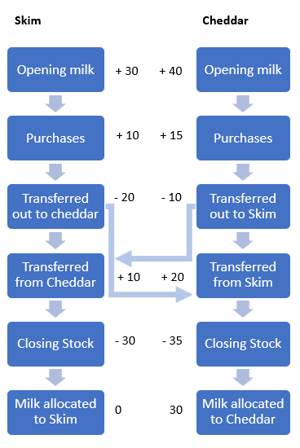 transfers of milk between different departments,
the purchases,
the total milk allocated per department.
Milk transferred out from one department is available for input in another department, milk transferred in a department is an automatic calculation by OneStream XF. All these transfers should add up and mismatches between departments are prevented.
There is a direct link between the milk model and the departments P&L. A change of milk transferred out to cheddar directly impacts the milk transferred in from skim in the cheddar department.
To value the movements each movement receives a price per tonnes and is either calculated (based on total movement costs/Litres) or is managed by manual input.
Stock (re)valuation
Precise indirect and direct cost allocations per product enhances your ability to value stock. With an up to date stock evaluation, you can compare your performance over periods and with the market. OneStream XF allows you to see the effect of direct and indirect cost adjustments on stock valuations with one click using the calculate button.
If a stock revaluation is required for the specific month this value is calculated by OneStream XF. The system compares the calculated cost per tonnes to the cost per tonnes in the market and uses the difference to come up with the right revaluation.
This feature shows the great advantages OneStream XF has in comparison to excel models. OneStream has all the latest data together in one platform and is able to use this when calculating the stock (re)valuation.
Scenarios for Carbery
The solution implemented at Carbery is built for the actual scenario and can be enhanced with a Planning scenario. An automatic forecast calculation is implemented based on budget and actuals, that can be calculated on the fly in OneStream.
The Forecast is a combination of budget and actual with a flexible month selection. This way Carbery can easily analyse their actual trend compared to budget and what the expected year end outcome will be.
Workflow
One of the advantages of using OneStream XF is that it pushes users to follow a specific sequence of tasks to follow in a certain order to avoid incorrect data loads. In this case at Carbery, the following Workflow is used:
The main benefits of having a good workflow in place is: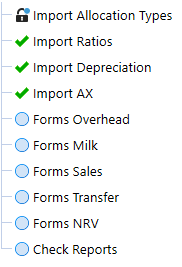 Automatically roll forward and use allocation data of previous periods
Avoid uploading incorrect allocation data using various validations
Load additional allocation data next to the calculated ratio's
Integration with Actuals, use one single data load for both consolidation and allocation
The main benefit of the workflow is that for users it's very clear in which order data should be added and where specific tasks should be done. This can be enhanced with instructions or video's and together with the Task Manager you are also able to manage the whole process.
The key take-aways
The Carbery case is a great example of how you can prepare such Management Accounts with an allocation model in place. The following benefits are the main take-aways from this customer case:
More insight into the cost and profitability of products and processes
Speed up the allocation process
Analyse the outcome in detail
Improve data reliability with the right Workflow and locked data
Are you ready to discuss your allocation challenges with us?